---
The Team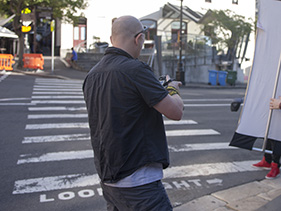 I have always had a love for photography and knew from a very young age that it was one of my callings. When I first started with photography I attended a few photographic classes but I found they sapped away my motivation & creativity and progressed much too slowly when compared to how exciting & fast the industry was moving at that time. To be able to fully immerse myself unhindered in what was then an emerging medium, digital photography, I went it alone.
Essentially I am self-taught; everything I have learnt came from countless hours of trial & error. My photographic techniques have grown and developed right alongside some of the Central Coast's most spectacular and successful dancers. I have had the privilege of photographing the training & performances of countless dancers starting with their first class right through to their professional career. This has given me a highly specialised and unique perspective of the dancer, one that cannot be bought or learnt without a lifetime of experience.
My dedication & commitment to the photographing of dancers has manifested in Primal Studios, a state of the art custom built photographic studio designed specifically for the dancer and performer. It is beautiful studio which allows dancers to fully express themselves at the highest limits of their ability.
— Damian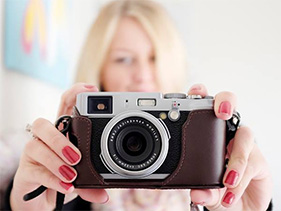 Growing up in a family of Photographers, I think it's pretty safe to say that photography is in my blood. I'm not often seen without a camera of some sort in my hand trying to capture the world as I see it.
I was blessed enough to grow up living on a waterfront on Tuggerah Lake, with the most amazing sunrises and sunsets right in my own backyard. I spent most nights sitting down by the water with my cat by my side taking landscapes. It was here where I really fell in love with photography.
I learnt the tricks of the trade assisting my brother on a wide variety of shoots from the age of 17. Countless hours were spent researching and perfecting different styles and techniques. From extremely shallow depth of field natural light to landscape portraits with advanced strobe balancing. It was at this time I realised that I had not only a real passion for photography but talent too. A few years later I spent 2 years studying cert IV in Photo imaging.
I'm now moving into the next stage of my photographic adventure. The future looks very bright and I hope you will join me and be part of my exciting journey.
— Lauren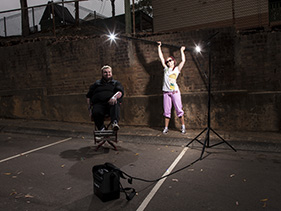 I fell in love with dance the moment I first stepped into my very first class at the age of 4. Since then, dance has been an all-encompassing passion & I've spent my life up until now learning as much as I can about dance & anything remotely related to it.
I also love to pass this knowledge on to others & I founded Lee Academy (A dance & performing arts studio on the Central Coast) 20 years ago, & am still the Studio & Artistic Director today. Through Lee Academy I have had the opportunity to meet, teach & work with some of the most talented & successful performing artists in the world & had many wonderful experiences that I am very grateful for.
I've been fortunate to work with Damian & Lauren creatively on photo shoots for many years of countless dancers, models, athletes, families, pets & all sorts of subject matter! It is wonderful to work with two people who are so committed to what they do. Each & every image they create is a work of art & I'm so proud to be part of it.
See you at your photo shoot!
---